Beat This…
By Sarah Wise
Published on Tuesday, December 20th, 2011
Beats Antique, out of Oakland CA, are not your average experimental world fusion and electronic music group. If there were such a thing. They have described their music as an electro, xfunctional, acoustic, hip-hop, melodramatic, down tempo-freakness, world, gypsy, funk, vulcan, get down off your butt, sound. I'm serious – check out their interview with KVRX 91.7FM Austin: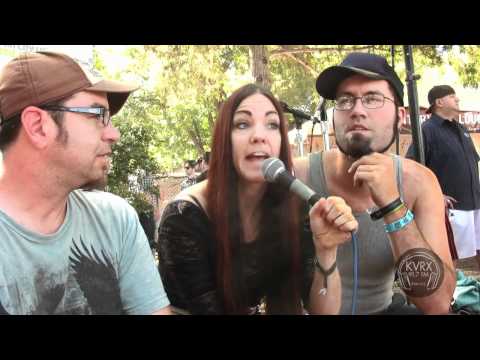 The trio got together in 2007 in San Francisco to combine the artistic talents of David Satori (guitar, sax, viola, and percussion), Sidecar Tommy Cappel (keys, toy piano, drums, and percussion), and Zoë Jakes (belly dancer, composer, and arranger). All three are from a performance arts background and have a very visual approach to music.
Their latest music video, 'Revival', was directed by Ivan Landau who was also responsible for post production and VFX. Using both Magic Bullet Suite and Trapcode Software, Ivan's video is an intricately woven visual tapestry that is a masterful example of how the two software tools can work in unison.
Landau has said it was 'amazing, watching 'Revival' materialize from subconscious to screen', so we asked him to tell us a bit more about this enthralling piece of work.
How did the video come about?
"Revival" started as a little dream.  It was a basic story of an epic journey to restore life to a world in decay.  It was a world made of snow and paper cutouts.  It was abstract, beautiful and weird.  I thought of Beats Antique and Leighton Kelly immediately.  Zoe Jakes, David Satori and Tommy Cappel of Beats Antique are artists that I have watched for many years.  I always admired their visual style and amazing live show.  They are a band who put equal emphasis on the visual as well as the musical aspects of their performance.  I approached them with the idea and they were immediately on board.
You talk about the project being a collaborative dream, were you familiar with Leighton Kelly's work before?
This really was a collaborative dream.  Leighton Kelly is one of my favorite artists.  He captures profound emotion with subtle strokes.  I have known him for several years and, after perusing through his blog (http://dayone2012.tumblr.com/), I was totally inspired to collaborate with him.  The initial dream I had actually had Leighton's illustrations in it.  I was a little nervous that if Leighton couldn't do the drawings then the video couldn't happen.  There was a lot trust between everyone making this video (namely Beats Antique, Leighton Kelly and Austin Rhodes, my cinematographer).  Everyone contributed.  It was a surprisingly smooth collaboration considering we were very rarely all in the same place.  The band was on tour for most of the project and, with the exception of our initial brainstorming session, Leighton was in India and Bali with a sketchpad, a small scanner and sporadic internet access.
How long did Revival take to produce, concept to completion?
The entire production, from subconscious to completion probably took about four months.  It's hard to gauge exactly how much time was spent in actual production and post because I was usually working on it after hours, weekends and while other jobs were rendering.  At some point, for reasons beyond rationale, I decided I would just do all the post production myself.  I had a pretty clear vision of what I wanted it to look like and when I started experimenting with the shots I just couldn't stop.
What was your favorite part, or particular sequence of the production?
My favorite parts of the video are the illustrated snowscapes and the dance sequence.  The illustrated environments were rewarding for me because it was like recreating the dream I had, except better.  Once Leighton started handing off his illustrations with these little details like spats and bow ties on the deer, I knew we were on to something.  The final dance sequence was amazing to work on because it was a total experiment.  Zoe designed the costumes and choreographed the sequence for the three main dancers (herself, Kami Liddle and Auberon Shull).  We basically could just hit record and they would nail it on queue.  I experimented with a lot of different looks for that sequence (macro photography and lazers!) and decided that stop-motion paper was the most appropriate.  I wanted it to look a little rough and out of control, beautiful and tactile.  Austin and I spent some long nights crumpling paper.
What do you like about using Trapcode?
I'm blown away by what people are doing with Trapcode.  I easily impress myself when I just make a little snow or floating dust particles with Particular or throw some Shine on some otherwise drab elements.  I had experimented with using organic elements for the snow, and while there is some of that in there, it never looked exactly like i wanted it to.  Particular is so dialable you can always get the look you want.  plus, how else could you make thousands of little fish explode from someone's head? (that didn't make the cut).
Do you have a favorite aspect to using Magic Bullet Suite?
I really do love Looks.  It almost feels like cheating.  It provides such good baselines that can be endlessly dialed.  I've actually learned a lot about color by inspecting and tweaking the Looks settings.
Were any of the Red Giant tutorials helpful?
I used to be a bit of a tutorial junky.  I'm getting better, usually not more than one a week at this point.  I'm basically self-taught so online tutorials have helped me tremendously.  I can't even count how many of Aharon's tutorials I've watched.  I've probably watched all the Red Giant tutorials.  I love how some of the Red Giant tutorials include the projects files.  Being your own teacher can form some bad or at least inefficient habits, so opening up clean project files has enlightened me to some better techniques.
We love the intricate blend of Leighton Kelly's work and if you're familiar with the band you should spot some of their signature imagery used in Revival.
Ivan Landau is well known and admired for his work as VFX Editor on feature films such as Sin City, Aeon Flux, Harry Potter and the Goblet of Fire and Blade Runner (Final Cut version). And we're hoping 'Revival' is just this start of him turning his talents to music videos.
Links: