Hi, it's Nawal from Red Giant's Portland office. You may recognize my name if you have contacted our Support team in the past.  I've escaped the Support grind and moved onto Quality Assurance… But what about escaping the QA grind?  Fortunately there are always the weekends and summer months where I look forward to releasing some creative energy.
Part of being a true Oregonian involves turning off your digital devices and living in a tent for most of the summer.  When I am not reporting bugs, testing installers and working on top secret software projects, I am occupying myself with the great outdoors.  A trip to Crater Lake, working at the Oregon Country Fair and several jaunts to the Oregon Coast filled up most of my summer.  Sometimes it involves living off the grid, deprived of phone service and toilets, while other adventures can incorporate the unimaginable merging of nature, technology and art.  Someone once thought of the genius idea of bringing their computer outside, which later evolved to bringing an entire video production team outdoors.  This paved the way for the highlight of my summer, a weekend of camping and video editing in the woods.
In early August I found myself on the dusty grounds of Pendarvis Farm outside Portland Oregon, home of Pickathon, an annual Indie Roots Music Festival.  I worked on the film crew which is the largest volunteer film crew in the nation (maybe even the world?).
I had never been part of any team remotely like this before so it was quite the adventure.  Being on the post production team was a challenge at first–learning FCPX and getting into the swing of things, but the weekend turned out to be quite the success.  It was a delight to work with the senior editor, Lance, who apparently was no stranger to Red Giant as he won our Magic Bullet Suite for a film competition in the past, and knew Stu Maschwitz (small world!), the Magic Bullet creative director.
While the weekend event was happening, there was live video feed broadcast over the website. It was my job to create some of the content. I worked on short intro videos for each band as well as minute long clips that showcase the festival.  This ranged from pieces on the food vendors to camping and comedy sketches. One of my favorites was a clip showing how people were trying to beat the heat.  During the weekend we experienced a couple days that were well above 100 degrees. It was so hot we didn't know what to do with ourselves (says the girl editing video in an air conditioned trailer) but really, people were literally dousing themselves with water to stay cool.  Here's the clip: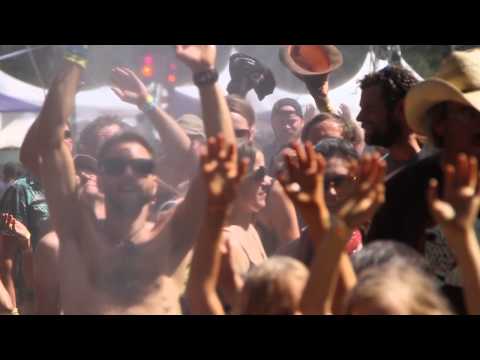 The camping film industry may be relatively new, but it is sure to stick around indefinitely.  I mean, really, who can't get down with a weekend of cameras, computers, dirt, sweat and warm beer?